Boost Teammate Grade in NBA 2K23 MyCareer: Tips & Strategies
This essential guide will help increase your teammate grade in NBA 2K23 MyCareer. Learn effective strategies to get the most out of your game and become a top-tier NBA 2K23 MyCareer player. Discover tips on game mechanics, build customization, and more to help you reach the highest grade possible. Start your journey to becoming a pro today with this comprehensive guide.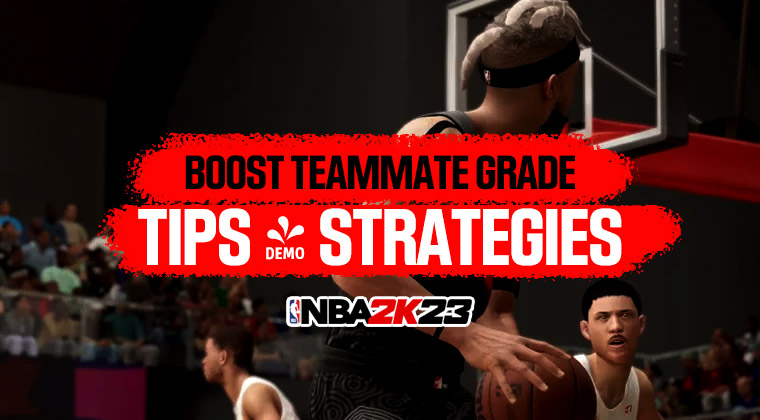 Maximize Your VC Earnings With a High Teammate Grade: Tips to Increase Your Grade and Unlock Rewards
Having a high teammate grade can be the key to success in the world of sports video games. It can lead to increased rewards in VC (Virtual Currency) as well as a host of other benefits.
These include an increased fan base, endorsements, unlocking badges, and even increased interest from other teams when requesting a trade. The main goal is usually to maximize NBA 2K23 VC earn, and this can be done by achieving an A+ grade in every game. This is no easy feat, but it is possible with the right strategies.
First, focus on playing well, making smart in-game decisions, and avoiding penalties. Additionally, practice communication and collaboration with your teammates to ensure you receive the highest grade possible. You can maximize your VC earnings with the right combination of skill, strategy, and teamwork.
How to Achieve an A+ Teammate Grade in a Short Game | Tips and Strategies
This table provides an overview of all the factors that may help you improve your teammate's grade. From small increases to large ones, you can find the right strategy to optimize your teammate's performance. By leveraging these strategies, get the most out of your teammate's efforts and get the grade you deserve.
Action: Teammate Grade Increase Equipment - Details
A good pass: Low - Execute a clean, crisp pass
Successful box ou: Low - Box out an opposing player for the rebound
Fill lane correctly: Low - Good spacing in transition
Multiple defensive stops: Low - The team defended at least 4 times in a row
Good shot selection: Medium - Attempting an open shot
Poking the ball: Medium - Stripping the ball away from the offensive player
Steal: High - Getting the ball from the offensive player
Assist: High - Pass to a teammate leading to a score (assist)
Find open teammate: Medium - Passing to an open teammate and takes the shot
Block: High - Blocking a shot from an opposing player
Good shot contest: Medium - Contesting a shot directly
Pass leading to a foul: Medium - Passing the ball to a teammate fouled for a free throw
The free throw made: Low - Making a free throw
Defensive rebound: Medium - Rebounding the ball on the defensive end
Offensive rebound: Medium - Rebounding the ball on the offensive end
Good screen: Low - Setting a screen for a teammate (screen must be used)
Good spacing: Low - Spacing the floor offensively
Good ball movement: Low - Passing the ball around the team
Pass leading to a score: Medium - Good passing. Pass the ball to a teammate, score a pass
Boost your teammate grade and get an A+ score on a short game with the right strategies! Utilize assists, and pick-and-roll actions for guards spread the floor, cut for forward passes, set screens and defend the paint for big men.
For defense, try changing to a zone defense (3-2 zone) and contest every shot in the paint to make the opposing team drive to the basket more. Follow these tips and get an A+ grade in a short game!
Avoid Decreasing Your Teammate Grade: Tips for Good Defense and Avoiding Turnovers
Action: Teammate Grade Decrease - Details
Turnover: High - Giving possession away
Bad shot selection: Medium - Shooting on a very contest shot
Leave assignment: Medium - Leaving your defensive assignment after a few seconds
Stripped ball: Medium - Dribbling and getting the ball poked away
Bad Defense: Medium - Allowing your current assignment to score
Allow Multiple Baskets: Medium - Opponent scoring multiple times in a row
Personal Foul: High - Fouling unnecessarily
Improve your teammate grade in basketball games by avoiding risky passes, bad shot selection, leaving your assignment, and unnecessary fouls. Use the LT or L2 button to guard the ball while dribbling and always rush towards the opponent when they shoot. Keep your focus on the opponent's play and avoid easy baskets for the opponent to maintain your teammate grade.
Improve Your Pick and Roll Game: Learn How to Play the Pick and Roll and Increase Your Teammate Grade
Improve your basketball skills with these helpful tips on how to play the pick and roll. With the press of L1 or LT, You can ask your bigs to catch the ball, which could lead to an assist, and causes a passing foul for an easy layup.
As a big, you can casually set a pick and either roll or pop for a pass leading to a score. Force good shot contests by sagging a little until the player you're defending is open, and then force the opposing team to either score or take a bad shot.
To increase your chances of getting an A+ teammate grade, it's best to increase the game length to 12 minutes per quarter. With these tips, you can become a better player and dominate the court!