NBA 2K23 MyTEAM Season 5 Unveils Dark Matter Dwyane Wade Edition Cards!
NBA 2K23 is bringing some exciting content to MyTeam tomorrow with the launch of the new Remastered Season 5. This season will feature four exclusive collection rewards: Prime Dark Matter Player Rewards, Signature Series Dark Matter Player Rewards, Idols Galaxy Opal Player Rewards, and Flash Galaxy Opal Player Rewards.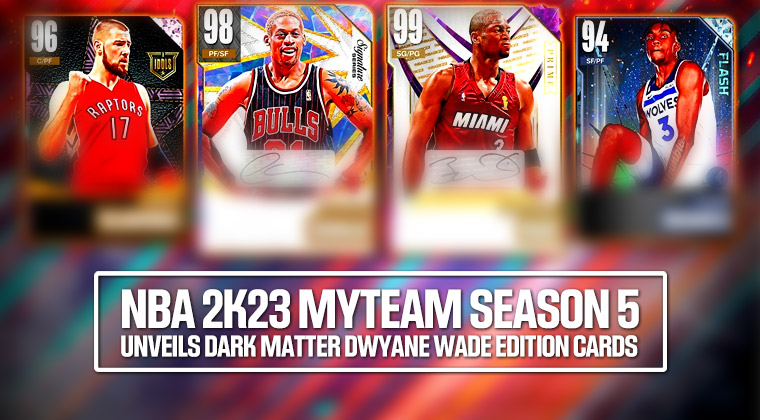 Unlock Prime and Signature Series Dark Matter Players with the Player Reward
The Prime Dark Matter Player Reward will allow players to lock in a Dark Matter Dwight Howard and four other Prime players. With the Signature Series Dark Matter Player Reward, players can get a Dark Matter Dennis Rodman and four other Signature Series players. The Idols Galaxy Opal Player Reward will reward players with an Idols Diamond Jaden McDaniels and four other Idols players. The Flash Galaxy Opal Player Reward will grant players a Flash Galaxy Opal Balance Unit and four other Flash players.
Unlock the Rewarded Memories of MyTeam with Remastered Cards
These new rewards are a great addition to MyTeam as they bring back iconic themes from past years, remastered for the current season. The immediate community reception of this content has been overwhelmingly positive, giving players something to look forward to every Tuesday. These new cards are a great opportunity for players to build their teams and maximise their MyTeam experience.
The Potential of the Upcoming NBA 2K23 MyTeam Cards
It's worth noting that while these rewards are exciting, there is no guarantee that the cards will be as good as those from the past. For example, if the release is changed, the Dwyane Wade Dark Matter card may only be as good as the card in 2K20. Similarly, the Dennis Rodman card may need an updated jump shot and dribble style to be effective. Jayden McDaniels also has the potential to be a budget card with his long wingspan and Jaden McDaniels base.
Conclusion:
Overall, NBA 2K23's Remastered Season 5 is an excellent addition to MyTeam and will give players more content every Tuesday. The exciting rewards will allow players to improve their teams and get the most out of their MyTeam experience.