Effects of NBA 2K23 Low Stamina Shooting on Shot Time Fluctuation
NBA 2K23 development team has implemented a unique new mechanic, shot timing fluctuations. This mechanic is designed to create a skill gap between players, but it has caused some confusion amongst the 2K community. To understand the full effect of this mechanic, it's important to understand how it works.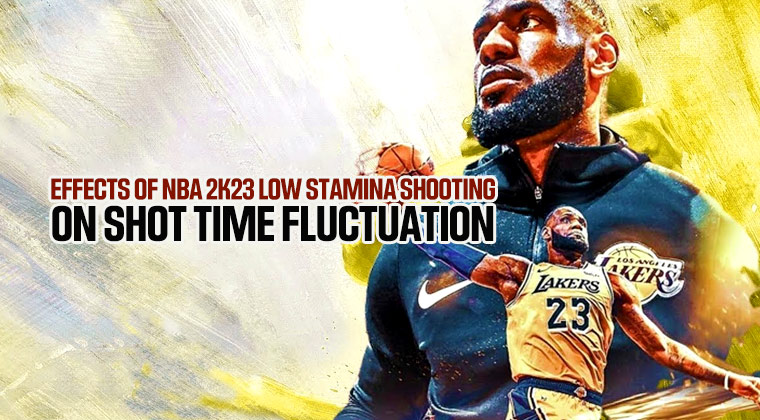 Fatigue and Defender
When a shooter is tired, their shot timing can slow down by up to 80 milliseconds. Additionally, when a defender is near a shooter, the shot timing can increase by up to 35 milliseconds. This can lead to a clearer situation when both mechanics are in play.
Low Stamina and Contested Shots
To explain the mechanic further, Aaron 2k (aka Idiot) tweeted a question about it to Mike Wang, the Senior Gameplay Designer for NBA 2K. Aaron 2k asked, "We all know our shot slows when stamina gets lowered. We also know that a shot speeds up in a contest, but how does that work when your stamina is low, and you are shooting contested shots? Does it speed up or slow down the shot trying to understand?" Mike Wang responded, "Yeah, they'll more or less cancel each other out."
More or Less Canceling Each Other Out
This response left some players confused, as the rhetoric "more or less cancel each other out" implies there are additional variables involved. However, if these mechanics did indeed cancel each other out, the shooter would be shooting with their normal shot timing as if there was no defender in their proximity and they had a full stamina bar.
Shot Timing Fluctuations
Unfortunately, many players have reported that the shot timing fluctuations do not cancel each other out. Their shot timing is still affected when shooting with a defender in proximity and when tired. This could be due to other variables not being considered, or it could be a bug in the game.
The Lack of Transparency
Regardless of the cause, it is clear that the NBA 2K23 development team needs to be more transparent with the community about the full effect of this mechanic. The community has had to do a lot of guesswork, and the folks at NBA 2K Lab have had to figure out the exact details of the mechanic on their own.
Conclusion:
Overall, shot timing fluctuations can be a useful mechanic, but the lack of transparency from the development team has confused and frustrated the 2K community. In the future, the developers will be more open about the exact details of new mechanics, so players can better understand and utilize them.