NBA 2K23 MyTeam Pink Diamond Cards: Tier List
NBA 2K23 MyTeam mode is in full swing, and with it comes the excitement of collecting all the best Pink Diamond cards. But with so many options, it can take a lot of work to know which ones are worth pursuing. Previously we analyzed the Diamond Cards Tier List in NBA 2K23 to help players choose the best Diamond Cards. Today we look at the 2K23 Pink Diamond Cards Tier List, which is why we have compiled the best Diamond Cards in MyTeam Reasons for the best Pink Diamond tier list so you can make the most intelligent decisions when it comes to building your dream team.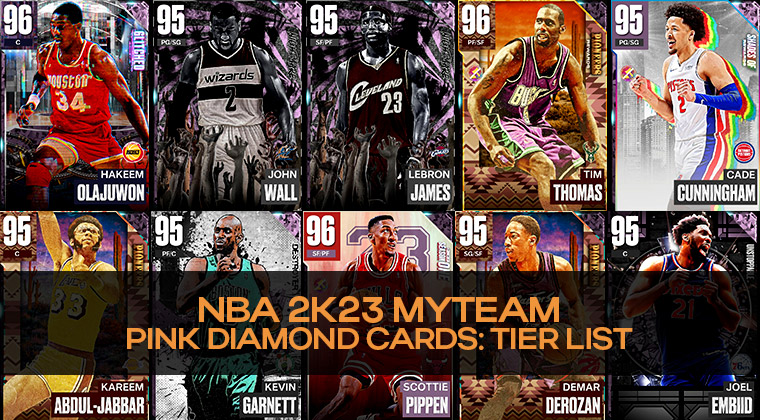 As the NBA's official basketball video game, NBA 2K23 will feature some of the most collectible cards in MyTeam mode. This year's NBA 2K23 Pink Diamond cards are sure to be mouthwatering as they represent the best in terms of players and abilities. To help you decide which cards to add to your collection, we've put together a tiered list of all Pink Diamond cards in NBA 2K23—looking to add a little extra flair to your NBA 2K23 MyTeam roster. Then you'll want to get some new Pink Diamond cards!
Tier S
Pink Diamond Tim Thomas
Pink Diamond Tim Thomas: A true floor-spacer in his prime, Pink Diamond Tim Thomas was one of the best shooters in the league. He could space the floor and knock down shots with the best of them. In his prime, Tim Thomas was one of the best shooters in the NBA. He had a remarkable ability to space the floor and knock down shots. His shooting would open up driving lanes for his teammates and create accessible scoring opportunities.
Pink Diamond Hakeem Olajuwon
Hakeem Olajuwon is a former Nigerian-American professional basketball player. Olajuwon is considered one of the greatest players in NBA history. He was a two-time NBA champion, two-time NBA Finals MVP, and a 12-time NBA All-Star.
Pink Diamond LeBron James
As the most dominant player in the NBA today, it's no surprise that LeBron James would be among the first to receive a coveted pink diamond card in NBA 2K23 MyTEAM. These unique cards are given out to only the best of the best players in the game, and LeBron James deserves such an honor if you're lucky enough to pull a pink diamond LeBron James card in MyTEAM.
Pink Diamond John Wall
John Wall, one of the best point guards in NBA 2K23, got a brand new Pink Diamond card in MyTeam. This card is an upgraded version of his previous Diamond card and is currently one of the best cards in the game. If you're looking to build a championship-level team in MyTeam, you need to start with John Wall on your roster.
Tier A
Pink Diamond Scottie Pippen
Scottie Pippen was a six-time NBA All-Star and a two-time Olympic gold medalist. Pippen was an incredible all-around player for the Chicago Bulls and was instrumental in helping them win six NBA championships. He was a versatile defender who could guard multiple positions and an excellent rebounder and scorer.
Pink Diamond Cade Cunningham
Assuming you want a detailed description of Cunningham, Cade Cunningham is an American college basketball player for the Oklahoma State Cowboys of the Big 12 Conference. Cunningham was named a McDonald's All-American, Gatorade National Player of the Year, and Naismith Prep Player of the Year.
Pink Diamond Kareem Abdul-Jabbar
Kareem Abdul-Jabbar was a six-time NBA champion, a 19-time All-Star, and the league's all-time leading scorer. He was also named the NBA's Most Valuable Player six times. Abdul-Jabbar will provide elite-level Scoring and Rebounding and a solid defense. You can add him to your MyTeam lineup as a pink diamond card.
Pink Diamond Kevin Garnett
Kevin Garnett is one of the most well-rounded players in NBA history. A true superstar during his time with the Minnesota Timberwolves and Boston Celtics, Garnett was a driving force behind both teams' success. He was named an All-Star 15 times and was a member of the All-NBA First Team on four occasions. In addition to his accolades, Garnett helped lead the Celtics to an NBA Championship in 2008. It's no surprise that Kevin Garnett has been immortalized as a Pink Diamond card in NBA 2K21 MyTEAM. His 93 Overall rating makes him one of the highest-rated cards in the game, and his combination of size, strength, and athleticism make him a difficult player to stop on both ends of the court. If you're lucky enough to add Pink Diamond Kevin Garnett to your team, you'll have one of the best players in NBA 2K23 MyTEAM at your disposal.
Tier B
Pink Diamond DeMar DeRozan
DeMar DeRozan is a shooting guard for the Toronto Raptors. He was drafted 9th overall by the Raptors in the 2009 NBA Draft. He is a four-time NBA All-Star and has been named to the All-NBA Second Team twice. He is also a good rebounder and passer. DeRozan is an excellent shooter, especially from mid-range. He should be able to continue his high level of play for many years.
Pink Diamond Ron Artest
Ron Artest is one of the most talented defensive players in the NBA, and he's shown it throughout his career. The Chicago Bulls drafted him in the 16th in the 1999 NBA Draft. He was traded to the Indiana Pacers in 2006 and helped them make the playoffs that year. In 2007, he was traded to the Houston Rockets, where he won an NBA Championship in 2009.
Pink Diamond Joel Embiid
The Pink Diamond Joel Embiid card in NBA 2K23 MyTeam is an absolute beast. It has a 99 Overall rating, making it one of the highest-rated cards in the game. It also has fantastic shooting and rebounding stats and is an excellent defender. If you have this card, you are almost guaranteed to win any game you play.
Pink Diamond Kawhi Leonard
His new Pink Diamond card in NBA 2K23 MyTEAM is incredible. If you're lucky enough to have this card, you're in for a treat. Kawhi Leonard is an elite scorer, lockdown defender, and all-around great player. His new Pink Diamond card gives him a +10 boost to all of his attributes, making him even better than he was before. In terms of Scoring, Kawhi Leonard is now an 84 overall. He has 97 shooting, which includes 95 three-point shooting and 93 mid-range shooting. He also has 89 driving layups and 92 post moves. Simply put, he can score from anywhere on the court.
Pink Diamond Ray Allen
Arguably the best three-point shooter in NBA history, Ray Allen was a key member of the Miami Heat's back-to-back championship teams. He's also one of only two players to win an NBA Finals MVP award while coming off the bench.
Tier C
Pink Diamond Ja Morant
The Memphis Grizzlies point guard has had an incredible sophomore season, averaging over 19 points and 7 assists per game. He's been excellent lately, scoring 30 or more points in four of his last six games. His Pink Diamond card is one of the best in MyTeam mode, with excellent shooting and playmaking abilities.
Pink Diamond Michael Jordan
To kick things off, we have the most expensive card in NBA history: the Pink Diamond Michael Jordan. This card will set you back a whopping 250,000 MT, but it's worth every penny. The PD Jordan is an unstoppable offensive machine, with 95 outside shooting, 93 driving layups, and 92 dunk ratings. He also has 86 post-scoring, making him a nightmare to deal with down low. On defense, he's no slouch either, with 87 steals and 85 blocks. If you've got the NBA 2K23 MT to spare, there's no better player to build your team around than Pink Diamond MJ.
Pink Diamond Devin Rooker
Devin Rooker is a 6'7" small forward from the University of Louisville. Rooker played two seasons for the Kings, averaging 4.1 points and 2.3 rebounds in 13.1 minutes per game. Rooker appeared in just eight games for the Thunder before being waived in December 2020. He was subsequently picked up by the Austin Spurs of the G League and played six games before suffering a season-ending injury.
Pink Diamond James Harden
The undisputed best player in the game, James Harden, is a scoring machine that can take over any competition. His shooting and ability to get to the rim make him nearly impossible to stop, and he's also one of the best playmakers in the league. There's simply no weakness in his game, which is why he's our top-ranked pink diamond.
Tier D
Pink Diamond Khris Middleton
As the best two-way player in the league, Khris Middleton is the perfect example of a player who can stuff the stat sheet. A well-rounded scorer who can knock down threes and get to the basket, Middleton is one of the best all-around players in the NBA. Averaging over 19 points, 5 rebounds, and 4 assists per game, His ability to shoot from anywhere on the court makes him a nightmare for opposing defenses. Add in his defensive prowess, and you have a truly elite player on both ends of the floor.
Pink Diamond Larry Johnson
Larry Probably the best pure shooter in the game and an excellent all-around player. His size and strength make him a tough match-up for most players, and he can take over a game with his Scoring. Arguably the best Pink Diamond in the game, Larry Johnson was an absolute stud during his time with the Charlotte Hornets. He was a two-time NBA All-Star and named the NBA Rookie of the Year in 1992. He's also one of only four players in NBA history to average 20 points, 10 rebounds, and four assists per game in their rookie season. A must-have for any team.
Pink Diamond Damian Lillard
Damian Lillard's shooting is unstoppable, he can take any defender one-on-one, and he's an elite playmaker. A true floor general, Lillard can score from anywhere on the court and has the vision and passing ability to make his teammates better. His only weakness is his lack of size. The only thing holding him back from being a perfect player is his lack of size, which more prominent defenders can exploit.
Pink Diamond Zion Williamson
Zion Williamson is a physical marvel with a unique skillset that allows him to dominate on both ends of the floor. At 6'7" and 285 pounds, he has the size to bang down low with the best big men in the league, but he also has the speed and athleticism to keep up with the quickest guards. His 42" vertical leap allows him to play above the rim with ease, and his combination of power and touch make him nearly impossible to stop around the basket. He has 99 Overall ratings for both Outside Scoring and Inside Scoring, making him one of the best scorers in the game. He also has solid ratings for playmaking, defense, and athleticism. In short, Zion Williamson is an absolute stud on the court.
Pink Diamond Pete Maravich
As the tier list for NBA 2K23 MyTeam's new batch of pink diamond cards is released, one name stands out: Pete Maravich. The late, great Pistol Pete was one of the most prolific scorers in basketball history, and his card in NBA 2K23 is a fitting tribute to his legacy. Pete Maravich's shooting stats are off the charts, with 89 three-point shooting and 96 mid-range shooting. He's also an excellent passer, with 97 vision and 95 passing accuracies. On defense, Maravich is solid but unspectacular. His 66 steals rating is decent, but his 62 blocks rating leaves something to be desired. However, his 98-hustle rating ensures he'll always give 100% effort on both courts' ends.